Fashio & Art Research Institute
美 国 时 尚 与 艺 术 研 究 院

Fashion and Art Research Institute of USA
| | |
| --- | --- |
| Posted on 1 May, 2017 at 21:10 | |
【尚桥快讯】关于在中国北京举办"东方文艺复兴高峰论坛"的通知
2017-05-01 john 尚桥
         为了更好地推动东方文艺复兴运动在国际范围为了更好地推动东方文艺复兴运动在国际范围中展开,本盟决定借"纽约
  东方文艺复兴访华团"访华之便。于五月十三日在中国北京首都大酒店举办一次,"美中东方文艺复兴峰会"和中国有关机构
  共同交流东方文艺复兴的概念,理论思想和行动方法,推动中华文化复兴运动的深入发展!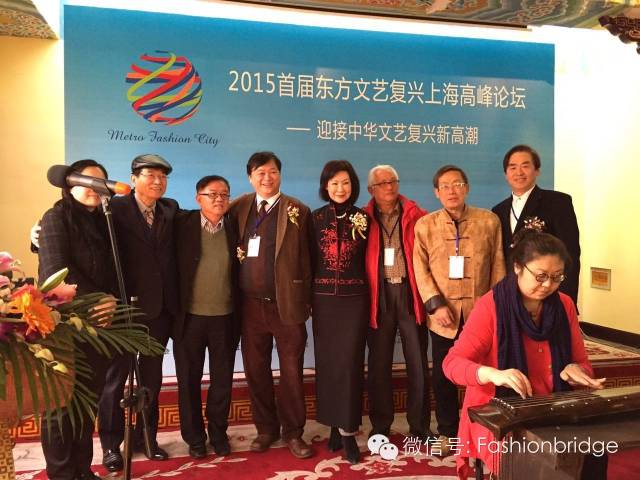 中国作为东方四大文明古国,中华文化的发源地,有着悠久的历史和深厚的文化底蕴,最近中国领导人习近平主席和
  中国政府都一再重申要复兴东方文化。所以,中国理应在东方文艺复兴运动中,起到重要的引领作用。
           美国是个多元文化的社会,东方文化与西方文化、非洲文化、印地安文化一样,是美国文化的重要组成部分之一。而
  且,美国的夏威夷和太平洋沿岸一部分,地理位置也应该属于世界东方的一部分。亚裔人口在美国有二千一百万人(根据美
  国人口统计局2015年人口统计数字)。因此,美国是一个跨越东西方的国度,也应该义不容辞参与到东方文艺复兴的运动中,
  为人类做出贡献!
            美国东方文艺复兴联盟成立于2015初,是目前世界上唯一以联盟形式组成的,东方文艺复兴为主题的非谋利机构,云集
  了国际上一群为东方文艺复兴献身的知名人士和社会贤达。两年来在纽约、上海、杭州多次举办了颇具社会影响力的论坛和研
  讨会,积极推动东方文艺复兴活动!
            中国国学院是中国国务院下属二级社会学术机构,具有一定的中华国学的代表性。
            中国原创艺术研究发展中心,系国家文化部门专业研究机构。将协助中华原创艺术和文化,向国际间拓展影响,是中华文
  化复兴的重要方略.
            我们希望能借此机会和中国热衷于东方文艺复兴的贤能人士交流知识和经验,共同努力造福人类!同时,也为迎接中华文
 艺复兴的新高潮,作些时尚与创意的尝试。
           本届峰会将由美国东方文艺复兴联盟、中国国学院和中国原创艺术研究发展中心联合主办,中华龙文化研究院、美国时尚与
  艺术研究院共同承办,并有十数家中美两地重要的文化、艺术和时尚机构支持的盛会。欢迎大家积极参与,共襄盛举!
 
 
 美中东方文艺复兴峰会组委会
2017/04/20 纽约
联系方式:电话212-845-9470
中国手机:13816825225
Email:[email protected]
微信:snowbirdusa
 
In English (英译本)
 
Notice of the "Oriental Renaissance Summit Forum" held in Beijing,China
 
        In order to better promote the EasternRenaissance in the international context, the Union decided to "New YorkOriental Renaissance visit to China" visit to China. On May 13 at theBeijing Capital Hotel in Beijing, the "US-China  OrientalRenaissance" and the Chinese authorities to exchange the concept of Oriental Renaissance, theoretical thinking and action methods to promote thefurther development of the Chinese cultural revival movement!
        Chinaas the ancient four ancientcivilizations, the birthplace of Chinese culture, has a long history andprofound cultural heritage, the recent Chinese leaders Xi Jinping and theChinese government have repeatedly reiterated to revive the oriental culture.Therefore,Chinashould be in the Eastern Renaissance movement, play an important leading role.
         TheUnited Statesis a multi-culturalsociety, oriental culture and Western culture, African culture, Indian culture,is an important part of American culture. Moreover, theUnited Statespart of Hawaii and the Pacific coast, geographicallocation should also belong to the East part of the world. The Asian populationhas 21 million people in the United States (according to the US Bureau ofDemographics 1,2015). Therefore, theUnited Statesis a country across the East and West, should also be obliged to participate inthe Oriental Renaissance movement, to contribute to mankind!
         American Oriental RenaissanceAlliance was established in early 2015, is currently the world's only form ofthe Alliance the Oriental Renaissance as the theme of non-profit institutions,gathered in the international group for the  Oriental Renaissancededicated celebrity and social justice. Over the past two years in New York, Shanghai, Hangzhou has held anumber of socially influential forums and seminars, and actively promote theOriental Renaissance activities!
         China Academy of State is asubsidiary of the Chinese State Council under the two academic institutions,has a certain representative of the Chinese culture.
         China's original art research anddevelopment center, the Department of national cultural sector professionalresearch institutions. Will help the Chinese original art and culture, toexpand the international influence, is an important strategy for the revival ofChinese culture.
        We hope to take this opportunity andChinais keenon the revival of the Eastern Ren Ren people to exchange knowledge andexperience, and work together for the benefit of mankind! At the same time, butalso to meet the new upsurge of the Chinese Renaissance, for some fashion andcreative attempt.
         The summit will be jointlysponsored by the American Oriental Renaissance League, China National Academyand China Original Art Research and Development Center, the Chinese DragonCulture Research Institute, the American Fashion and Art Research Instituteco-hosted, and there are ten important cultural and artistic And fashionagencies to support the event. Welcome to participate actively, join thefestivities!
 
 
Organizing Committee of theUS- China Oriental Renaissance
2017/04/20 New York
Contact: Phone 212-845-9470
ChinaMobile: 13816825225
Email: [email protected]
Micro letter: snowbirdusa
 
 
 
操作指引
觉得文本不错?
◎可以点右上角分享到朋友圈
怎么看历史文章?◎点右上角查看公共账号→查看历史消息即可     
怎么订阅我们的微信?
◎搜索【尚桥】
◎或者搜索【Fashionbridge】
 
 
Categories: News
/